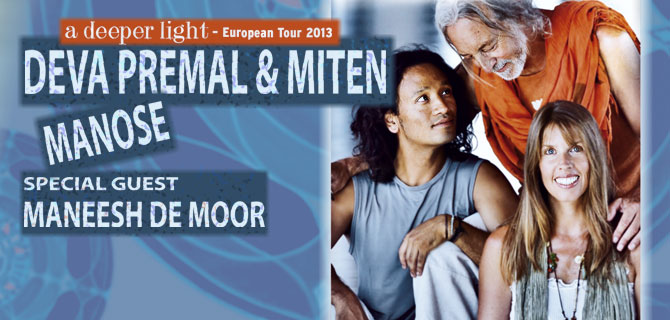 Friday 14th June 2013. 7.30pm.
Coronet Theatre, 28 New Kent Road London, SE1 6TJ
Join us for an unforgettable evening of music, mantra, meditation and love, in a participatory concert of contemporary and ancient chants and songs.
The music of Deva Premal & Miten has been called "pure magic" by best-selling author Eckhart Tolle, and for the last twenty years, worldwide fans have joyously agreed. Their ancient mantras and modern songs will take you on a blissful journey that eases the heart while it quiets the mind. Accompanied by Nepalese bansuri flute master Manose and keyboard player Maneesh.
Doors Open: 19.00
Concert Starts: 19.30 - 19.45
End Time: 22.45 - 23.00
Directions
Coronet Theatre, 28 New Kent Road London, SE1 6TJ
Elephant & Castle Underground – Bakerloo and Northern Line (2 minute walk)
Elephant & Castle Overground – First Capital Connect & Southeastern Services (2 Minute walk)
Bus - Newington, Elephant & Castle New Kent Rd (Stop N). Bus Routes: 1, 63, 168, 172, 188, 363, N1, N63
Buy Tickets
Ticket Options
Balcony
14th June, 2013
£30.00
How would you like your ticket
Print your own - Free
Posted to you - £1.50 charge
Stalls
14th June, 2013
£35.00
SOLD OUT
VIP Elevated Stall Seats
14th June, 2013
£45.00
SOLD OUT