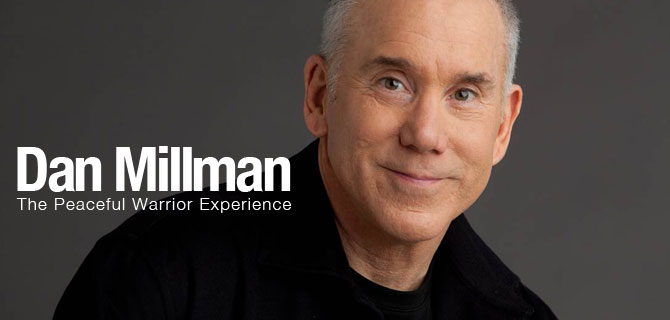 Saturday 14th September 2013
Time: 10.00-17.00. Doors Open: 9.30am
The Peaceful Warrior Experience:
with Dan Millman
Let go of expectations. Take a leap of faith. Join Dan in a workshop like none you've encountered before. Rather than a pre-set menu of topics, Dan offers an interactive process responsive to your needs and interests. It blends instruction with partner dialogue, small group work, and enjoyable practices that can move you closer to the Zen-point of reality — beyond assumptions or beliefs.
In a welcoming, supportive environment, we can explore any question or subject you like. Dan does not have "all the answers" — but his grasp of universal law provides insight into areas of wellness, relationships, business and finances, parenting, mind, decision-making, emotions, spiritual practice, overcoming fear, healing, intuitive gifts, new light on meditation, finding your life path, and many other topics. (We may even explore teachings from the hidden school, to be revealed in an upcoming book.)
Experience new facets of the peaceful warrior's way. Bring questions, an open mind, a sense of humor and a friend. You'll return home energized by new awareness, wisdom, and clarity about your purpose and place in the world.
Dan Millman is author of Way of the Peaceful Warrior (adapted to film in 2006), and 14 other books read by millions of people in 29 languages. Dan teaches worldwide, sharing ways to live with a peaceful heart and warrior spirit. More at: www.peacefulwarrior.com
Buy Tickets
Ticket Options
Standard Seats
14th September, 2013
£62.00
How would you like your ticket
Print your own - Free
Posted to you - £1.50 charge