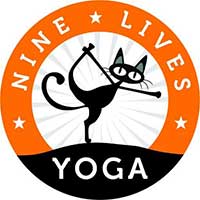 Nine Lives Yoga is back for the third year running to host the Silent Disco area!!!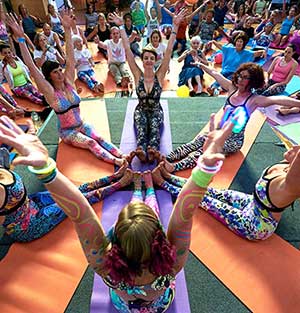 Dance your way through the Festival with Cat Duval.
The Silent Disco is simply about freedom of expression, dance, letting go of fear, self judgement and inhibitions... and did we mention it's soooo much FUN.
In Your Headphones throughout the weekend:
Yoga Parties, Acroyoga, Yoga Philosophy, Conscious Dance, Meditation, Adventure Yoga, Yoga Rave , Group Coaching Sessions, Partner Yoga , Family Yoga
Join Transformational Yoga Coach and Nine Lives Yoga Founder Cat Duval and her team - including mentor and coach of misfits and mavens Ebonie Allard and DJing all weekend with his amazing mix of conscious dance tunes DJ Pixi Pete!
Stop in, check out our daily schedule and sign up for free when you arrive at MBS to join our silent disco sessions throughout the day.
The schedule will flow with the mood of the day from dancing in the streets to meditation in headphones.
Tap into your free spirit and wild heart!
Join host - Cat Duval at the following workshops as part of the event too:
Yoga Activism: The Revolution of Authenticity
Talk on Stage
Friday 28th April - 11.30am - 12.00noon
Cat Duval talks about yoga activism, what it is to BE our authentic selves, honest communication, and inspiring real change in our communities where love wins over fear.
United We are Strong: Together We Flow
Wellbeing Studio - Free
Saturday 29th April - 2.00-2.50pm
Have fun, be strong and stay connected with collaborative calisthenics and partner yoga flows, whatever your body type.
Acroyoga: Collaborative practice and the empowered heart
Main Studio
Saturday 29th April - 6.15-9.45pm
Acroyoga and partner yoga embody the principles of a loving community in practice. In our competitive world, the calling to collaborate and deepen our connection to community is more important than ever. So let us celebrate eachother and build trust together to live every breath with presence and playfulness. Use your strength to lift others. United we fly. www.ninelivesyoga.co.uk
Book early - last year workshops got sold out.