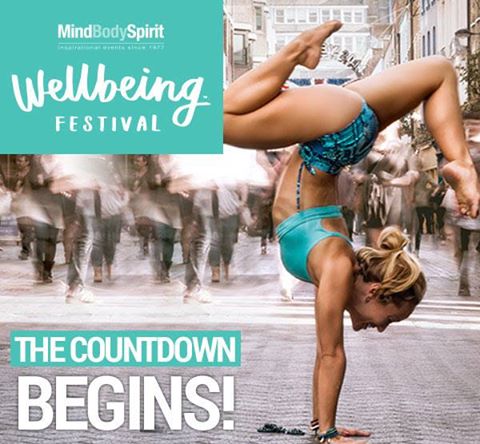 With only one week to go until the Mind Body Spirit London Wellbeing Festival here's a quick recap of our festival highlights and not to be missed workshops, performances and wellbeing classes.
We are really excited to welcome you at Olympia London, going back to where the festival started 38 years ago. Come celebrate 4 days of Wellbeing with us over the bank holiday weekend.
Workshops
Learn from some of the world's greatest teachers and thought leaders with an inspirational and life changing workshop that will provide you with a wealth of take away tools and fill you with wisdom. To help you decide which workshops to choose from read our 4 day workshop highlights guide. You can find out more about some our favourite presenters in our interviews section.
Special Areas
Read our highlights of the special areas at the festival: The Wellbeing Studio, Mantra Lounge, Love Dome and Wellbeing Spa.
The Stage 
The Mind Body Spirit London Wellbeing Festival experience is best enjoyed through our Live Stage. It's the dynamic, energetic hub of the Festival. For our 2016 Wellbeing Festival we've chosen a magical mix offering four days of soul warming music, kirtan, sacred dance, shamanic drumming, lucid dreaming, yoga and sonic love vibrations. Here's our 4 day programme of not to be missed performances.
Our chosen charity for this years festival is the Ashok Tree Foundation
The Ashok Tree Foundation was established based upon the inspiration, drive and vision of the founder, Yogi Ashokananda. Yogi's vision is simple: drive human development to reduce human vulnerability.
We'll see you in a weeks time! Don't forget to download your festival programme, RSVP to our Facebook event. Book tickets for the festival. See you there!